Want to know more about how our subscriptions work?
Don't worry, we've got all the answers below!
---
Easy! On each product page, you'll find an option to choose either a One-Time Purchase or to Subscribe & Save.
Simply click the Subscribe & Save button, choose how often you'd like the product delivered and add it to cart!
HOW DO I MAKE ANY CHANGES?
First, you'll need to log into your Customer Portal.
You can access your Customer Portal through your Shopify account login. If you didn't registered an account when checking out, you will need to create an account using the same email address used at checkout. Once your account is registered, you can login and access your Customer Portal by clicking on the Manage Subscriptions link.
Alternatively, you can access your account using the Customer Portal direct link. This link is normally sent in your Subscription Confirmation email and your Upcoming Order email.
HOW DO I CHANGE TO MY SUBSCRIPTION?
Once logged in, click on Subscriptions.
From here, you can:
Add a product
Swap a product
Edit the order (including changing the date)
Cancel

HOW DO I SKIP A DELIVERY?
Once logged in, click on Delivery Schedule on the left to see all upcoming deliveries for your subscriptions. To skip a delivery, you can click Skip next to the delivery you would like to skip. Similarly, to unskip a delivery, you would click Unskip next to the order.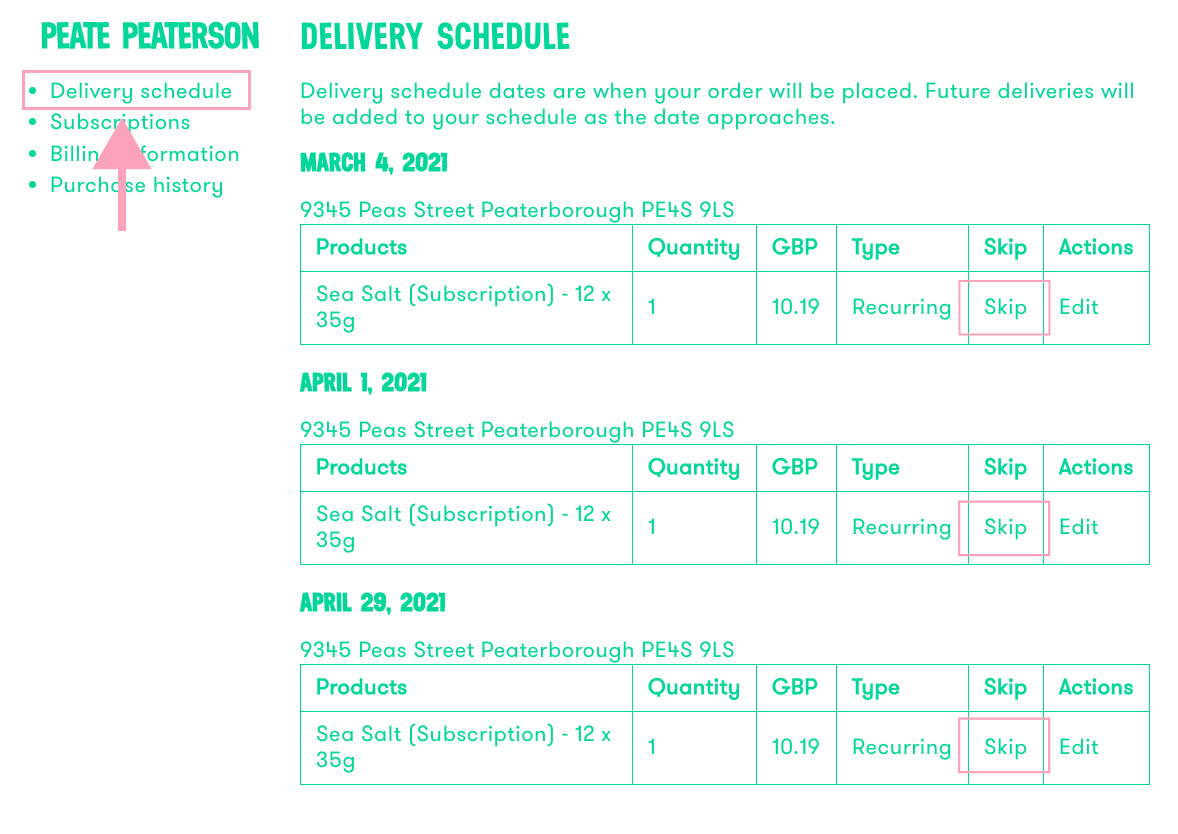 HOW DO I UPDATE MY BILLING INFORMATION?
In the Billing Information tab you'll find the current method of payment along with the current billing address. However, this is not the same as the shipping address. You would edit the address in this section if your billing address has changed or if you need to update your email address.